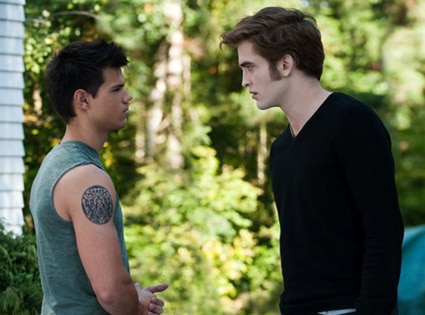 • Full disclosure: We attended a 12:15 a.m. showing, not a midnight one. The midnight showtimes were, natch, sold out. In fact, as the premiere hour neared at our Los Angeles-area theater, four of the seven Eclipse screenings—from 12 a.m. to 12:40 a.m.—were booked.

• Vampires and wolves do not scare off boys. Not if they're out on dates with girls. The (long) lines were more than dotted with dudes. It was a strange thing, though, on the way out, we only saw women. Have no idea what happened to the guys during the movie. You don't think they could've been scared off by…

• …Lautner's never-get-old abs? Say, did we already mention those? Sorry. We're a little loopy right now. Our ears are still ringing from the applause, catcalls and lusty pleas earned by each and every toned thing on the young Mr. Lautner's torso.

• Our three favorite lines shouted at the screen, presented in ascending order as determined by how out of her gourd the Lauter-crazed woman sounded: (1) "Take that shirt off!"; (2) "That's a real man!"; and, quick, grab a glass of water, no, better make it a hose, (3) "I can't take it anymore!"

• But wait, there's more: Lautner's business, as it were, with Kristen Stewart generated at least one fist pump. It was dark, so we couldn't tell for sure, but we wouldn't be surprised if the pleased individual was one of Lautner's agents.

• We should write here that Robert Pattinson's first appearance generated squeals, too. We should write that. But it didn't.

• No, Pattinson backers didn't bring the night-out-at-Chippendales passion. With one "Oh, sh-t!" exception.

• Out of deference to the lollygaggers who have not yet seen the movie, we will say no more about the above except to say that at one heated moment a presumed Team Edward supporter forgot her courtly, old-world self, and went all Samantha Jones, exclaiming over and over and over again, "Oh, sh-t! Oh, sh-t! Oh, sh-t!" Take that, Team Jacob.

• The Victoria recast was barely noticed, if at all. There were no audible protests from Rachel Lefevre diehards. There was no applause for Bryce Dallas Howard, although given her remarkable resemblance to a mid-run Designing Women Annie Potts, trust us, we were tempted.

• There probably will be some crossover audience for Eclipse and Julia Roberts' Eat Pray Love, but this was not the night—and the latter's Oprah-vibing trailer died a quiet death, especially next to the cheers and whistles for the new Harry Potter coming attraction. (Who said wizards and wolves can't get along?)

• First two discernible words heard as the end credits rolled at 2:20 a.m.-ish: "Breaking Dawn." Guess it's back to the gym, for you, Lautner.


Eonline